Top 10 manufacturing companies exploring Industry X
Industry X
Microsoft, IBM, Siemens, Cisco, General Electric, Schneider Electric, ABB, Honeywell, Bosch & Rockwell Automation are our Top 10 Industry X manufacturers
Several manufacturing companies are actively exploring Industry X, which refers to the convergence of advanced technologies, such as:
Automation
Artificial Intelligence
Internet of Things (IoT)
Data analytics
Digital transformation in the manufacturing sector
These companies are leveraging Industry X technologies to improve operational efficiency, optimise production processes, enable predictive maintenance, enhance product quality, and drive innovation in the manufacturing industry. It's worth noting that this is not an exhaustive list, and many other manufacturing companies are actively exploring and adopting Industry X technologies to stay competitive in the digital era.


10. Rockwell Automation
Milwaukee, USA
20,000 employees
CEO: Blake Moret
Revenue: USD$7bn
Rockwell Automation, a leading provider of industrial automation and digital transformation solutions, utilises Industry X principles to enable its customers to enhance operational efficiency and productivity.
The company builds automation and control systems which integrate various industrial components, such as programmable logic controllers, human-machine interfaces and sensors, which enable real-time monitoring and control of industrial processes. Rockwell Automation's solutions help streamline operations, reduce downtime and optimise production efficiency.
Rockwell Automation also leverages IIoT technologies to connect machines, devices, and systems across the industrial landscape.

Rockwell Automation
LinkedIn: Rockwell Automation
Twitter: @ROKAutoEMEA
9. Bosch
Gerlingen-Schillerhöhe, Baden-Wuerttemberg, Germany
421,000 employees
CEO: Stefan Hartung
Revenue: €78bn
The Bosch Group is a leading global supplier of technology and services, which is divided into four business sectors: Mobility Solutions, Industrial Technology, Consumer Goods, and Energy and Building Technology.
Bosch embraces the Industry X principles to advance digital transformation and enhance industrial processes. Its robotic solutions are designed to collaborate with humans, performing tasks that require precision, speed and repeatability.
Bosch integrates IoT technologies to connect machines, devices, and systems within industrial environments. The company provides IoT platforms and solutions that enable data collection, analysis and communication.
Bosch
LinkedIn: Bosch
Twitter: @BoschGlobal
8. Honeywell
Charlotte, North Carolina, USA
124,000 employees
CEO: Darius Adamczyk
Revenue: USD$35bn
Global technology company Honeywell uses Industry X principles to enhance industrial processes.
Honeywell's industrial automation solutions enable advanced process monitoring, control and optimisation, which can improve safety in the manufacturing industry.
Its connected devices and sensors allow for data collection and real-time monitoring of industrial equipment and systems. IoT and wireless communication technologies can gather data from various sources, allowing for predictive maintenance.
Honeywell also employs advanced analytics and machine learning algorithms to process and analyse large volumes of data collected from industrial processes, which can provide anomaly detection.
Honeywell
LinkedIn: Honeywell
Twitter: @Honeywell
7. ABB
Zurich, Switzerland
96,000 employees
CEO: Bjorn Rosengren
Revenue: USD$29bn
ABB (Asea Brown Boveri) is a pioneer in electrification and automation and is calling for a more sustainable and resource-efficient future. ABB operates in robotics, automation, electrification and industrial technology.
The company is using Industry X principles to transform its industrial robotics, offering a wide range of robots and automation solutions. These robots are designed to work alongside humans, performing repetitive or dangerous tasks, thereby improving productivity, precision and safety in manufacturing.
ABB
LinkedIn: ABB
Twitter: @ABBgroupnews
6. Schneider Electric
Rueil Malmaison, Paris, France
81,000 employees
CEO: Peter Herweck
Revenue: €34bn
Schneider Electric's mission is to 'Empower all to make the most of our energy and resources, bridging progress and sustainability for all' - and Industry X can help with that. Schneider Electric uses Industry X to drive digital transformation in many ways.
Using IoT, analytics and cloud technologies, Schneider Electric provides solutions for building automation and control systems. Its industrial automation also helps manufacturers automate and optimise their operations using advanced control systems, industrial IoT and analytics.
Schneider Electric
LinkedIn: Schneider Electric
Twitter: @SchneiderElec
5. General Electric
Boston, USA
50,000 employees
CEO: H. Lawrence Culp Jr.
Revenue: USD$21bn
GE is a global medical technology titan and digital solutions innovator, which enables clinicians to make quicker and better informed decisions through intelligent devices, data analytics, applications and services.
The company has been actively involved in leveraging Industry X to drive digital transformation and innovation in manufacturing.
GE employs digital twin technology, which involves creating virtual replicas of physical assets, enabling real-time monitoring and analysis. By coupling physical assets with digital twins, GE can simulate and optimise performance, predict maintenance needs, and enhance operational efficiency.
General Electric
LinkedIn: General Electric
Twitter: @generalelectric
4. Cisco Systems
San Jose, USA
99,000 employees
CEO: Chuck Robbins
Revenue: USD$51bn
Founded in 1984 by a small group of Stanford University computer scientists, Cisco is dedicated to helping people make powerful connections and has used Industry X to do this.
One example is in its networking infrastructure; Cisco provides networking solutions that form the foundation for Industry X. Its network infrastructure supports the connectivity required for IoT devices, data transmission, and cloud computing, enabling seamless communication and data exchange in industries.
Cisco
LinkedIn: Cisco
Twitter: @Cisco
3. Siemens
Munich, Germany
209,000 employees
CEO: Roland Busch
Revenue: €86bn
From transport to healthcare, manufacturing to infrastructure, Siemens is a technology company focused on building resilient supply chains, smarter buildings, sustainable transportation and a stronger healthcare sector. Siemens actively utilises Industry X to drive digital transformation in many ways and in particular, in the manufacturing sector.
Siemens provides advanced automation and digitalisation solutions for manufacturing processes. Technologies include industrial IoT platforms, digital twins, and advanced analytics, enabling manufacturers to optimise production, improve efficiency and enhance product quality.
Siemens
LinkedIn: Siemens
Twitter: @Siemens
2. IBM
Armonk, New York, USA
312,000 employees
CEO: Arvind Krishna
Revenue: USD$60bn
IBM (International Business Machines Corporation) was founded in 1911 as the Computing-Tabulating-Recording Company (CTR) and remains one of the world's biggest IT companies.
Through the adoption of emerging technologies, IBM is actively involved in supporting the digital transformation of various industries.
IBM offers solutions for smart manufacturing that leverage AI, IoT and advanced analytics. These technologies help advance production processes, improve quality control, enable predictive maintenance and enhance supply chain management.
IBM's Watson IoT Platform enables manufacturers to connect and collect data from their devices, sensors, and equipment across the production line. The platform provides real-time visibility into manufacturing operations, enabling predictive maintenance, asset optimisation, and remote monitoring. Manufacturers can leverage the platform's analytics capabilities to gain insights, detect anomalies, and optimise their processes.
IBM
1. Microsoft
Redmond, Washington, USA
230,000 employees
CEO: Satya Nadella
Revenue: USD$198bn
Microsoft provides a broad range of products and services. The company also plays a significant role in supporting digital transformation initiatives across various industries.
In the manufacturing sector, Microsoft offers solutions for intelligent manufacturing that incorporate IoT, data analytics, and AI. These solutions enable manufacturers to optimise their operations, improve productivity, predict maintenance needs and enhance product quality.
Microsoft offers Azure Industrial IoT, a platform that enables manufacturers to connect and gather data from their equipment, devices, and sensors across the production line. This platform allows for real-time monitoring, predictive maintenance, and optimization of manufacturing processes. It enables manufacturers to collect and analyse data, derive actionable insights and make informed decisions to improve efficiency and productivity.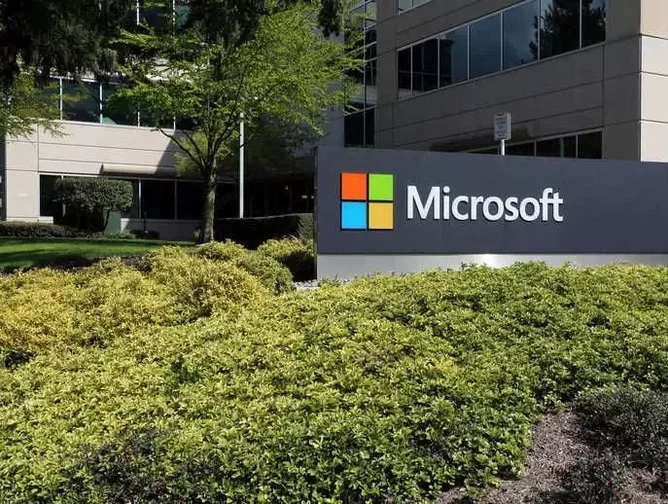 Microsoft